Proudly working towards supporting Australia's men and women on the front line. 
Motium is bringing our rugged technology expertise to the defence industry.
Producing reliable rugged technology designed and manufactured in Australia, Motium is proud to supply Australian Industry Capability to support the Australian defence industry. Our goal in building tough technology is to ensure that our men and women in arms can always rely on their equipment.
Motium is working with the Australian Office of Defence Industry Support (ODIS) to continuously expand our capabilities to support defence.
"Few situations demand as much out of people and equipment as a military conflict. It's vital to the safety and success of our Service Personnel that their computing technology remains reliable in extreme temperatures, dusty and wet conditions, despite constant vibrations and shocks, and in the face of normally damaging electrical surges. We have 20 years of experience designing, building and perfecting just such devices." – Motium Business Development & Account Manager Dieter von Mollendorf.
---
PRECISION TECHNIC DEFENCE
Motium is proudly working with Precision Technic Defence, an Australian-based provider of industry-leading capabilities and interoperable systems to Military and National Security Agencies.
Partnering with Precision Technic Defence, Motium is supplying 15.6-inch TUFF Panel PCs that are fix mounted in tactical reconnaissance buggies and are customised to suit their environment.
The 15.6-inch TUFF Panel PCs are outfitted in tan and camouflage options to match the buggy and blend in with the surrounding area during a potential military conflict. The whole system is deployable, allowing operators to move the Panel PCs between buggies, boats, and all military vehicles and platforms.
Motium's TUFF Panel PC is perfectly suited for installation on military buggies, having already been tested in one of the most trying industries: mining. Our technology can withstand harsh conditions present in defence settings.
"Our collaboration with Motium shows the strength and capabilities of the defence industry here in Western Australia. We are passionate about providing the best possible tactical solutions to our men and women on the front line. These rugged panels PC are essential to the reconnaissance applications of our light mobility platform the Polaris, MRZR2. We are excited for the future of defence innovation alongside Motium."  – Greg Whitehouse, Managing Director at Precision Technic Defence
---
RESEARCH INTO HUMAN-MACHINE TEAMING TO DELIVER TACTICAL ADVANTAGE
Motium is part of a team researching dynamic two-way communication using gestures for human-machine teaming. The team is designing technology that will teach defence force robots to read hand gestures.
This initiative intends to give a tactical advantage to the Australian Defence Force by having hand gestures replace current remote controls used by soldiers and allow them to operate unmanned machines.
A Motium's rugged technology, our TUFF PC, is a key part of robot dog Spot (care of Chironix) who is the robot at the centre of this project. The TUFF PC is responsible for interfacing the communication protocols between Spot and a pair of AR glasses (from Agile 8) that are worn by an operator using hand gestures to control him.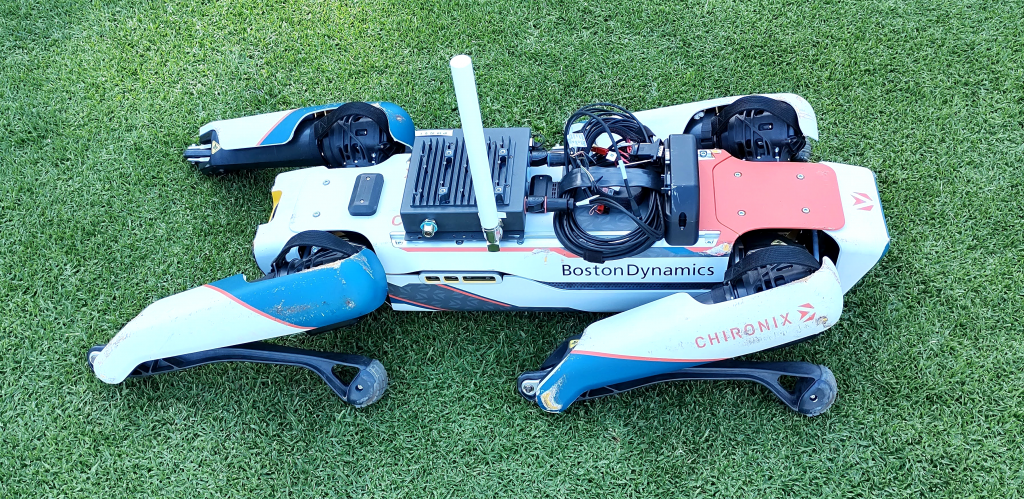 Motium is excited to be working in collaboration with skilled teams from Edith Cowan University, The University of Western Australia, Chironix and Agile 8 to support this research aiming to solve real-world defence problems.
Motium first got on board with this project in 2021 after attending a Defence and Research Teaming (DaRT) event that aims to bring academics, industry and defence together.
---